Weatherization of wood windows consists of several components.
The window sash
Storm window
Frame and trim
The window and frame should be weather stripped on all four sides and the meeting rail. Spring bronze weather stripping is preferred for the vertical surfaces of the movable sash. Silicon bulb works well for the bottom of the lower sash and the top of the upper sash.

The meeting rail can also use a silicon bulb seal if it is recessed slighty into the meeting rail so it does not bind when the sash is closed. The sash should be properly aligned at the meeting rail with a quality sash lock properly installed. For large sash use two sash locks.
The storm window whether of tradional or of modern manufacture should fit snuggly in the window frame and be sealed with the exception of a couple of weep holes in the bottom to allow moisture to escape.
The exterior and interior trim should be caulked to prevent exterior air intrusion.
If your windows are weatherized as described above, they will be as energy efficient as modern double pane windows.
Fact: Windows are frequently not the source of greatest heat loss. If your house is drafty and your heat bills out of control, consider an energy audit using a blower test to help identify the problem areas in your home
Spring Bronze on Jamb
Silicon bulb seal on sash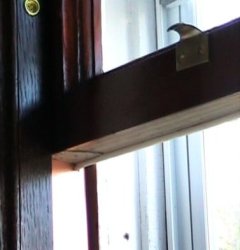 Sash lock